What are you (currently) working on?
[Passing the first level of Sifu without dying since each death ages your avatar and makes it more vulnerable to damage—the point of the game is to flawlessly pass every level with enough lives to face the end-level bosses; accepting that my circadian rhythm will most likely never make me a good tech, gym, or LinkedIn-bro kind of writer who wakes up (without reason) before the respectable count of time has begun (at 10h00—anything before that is banned by the United Nations Convention Against Torture) to have a 48 Laws of Power kind of day spewing useless ad-libs about finance and fitness; rowing for twenty minutes a day (using a commendable resistance setting) without my body divorcing my soul; soliciting submissions for the next issue of Doek! Literary Magazine; recovering from planning, organising, and hosting the 2022 Doek Literary Festival—for three days Windhoek was a cosmopolitan place dedicated to arts, culture, storytelling, and all manner of wonderful things before the normal and disappointing transmission resumed; editing, designing, and publishing the forthcoming Doek Anthology—a collection of short stories by writers from Namibia, Eswatini, South Africa, Zambia, and Zimbabwe called Now Now; fundraising for the literary projects in Doek's portfolio and doing chairperson-y things (whoever invented financial reporting will have an eternity's worth of skinny dipping in the lake of burning sulphur at the end of days); returning to the public dance floor—after a two-year hiatus I am nervous but excited to be re-hosting the only salsa socials in the country; donating my 750ml of blood plasma every other Friday without engaging in small talk with the other donors—if personal space is a concept of which Namibians know frighteningly little, silence is equally as foreign (and just as precious); and surviving—just good ol' fashioned paying rent, keeping the lights on, and having food on the table.]
The truth, though, will simply not do. People want to hear that you are working on something; a novel, a short story, or a poem. Something literary.
So I say: "Oh, you know, this and that…"
***
Listen: there is no this or that.
Just mere survival, the base struggle to make it from day to day. This is a reality every artist faces; confronting and overcoming it is its own art form, a work-in-progress always in need of revision and recalibration.
The absence of this and that cannot be chalked up to writer's block, when one suffers from a prolonged inability to write regardless of having the desire and need to do so.
This is different.
It is the absence of time: the small seconds and minutes of dreaming, the hours spent looking for words and sentences to turn a figment of the imagination into something finite on the page, the days needed to draft a narrative, the weeks of crafting, and the months required to come to terms with the nadirs and zeniths of one's writing.
Time.
And its cruel consort: momentum.
When the trade winds of writing are in your sails there are no stories you are incapable of starting, continuing, or concluding. The momentum of creation barrels you forward making the time spent writing seem fleeting, imperceptible when in the storytelling trance, and inconsequential regardless of the size of the undertaking. However long it takes to start and finish a project, you are willing and capable of sitting down and doing the work.
When this productive state of literary citizenship is paused by life's other demands the inertia of restarting once more—with the full knowledge of what lies before you: dreaming, drafting, crafting, accepting—is discouraging.
How strange: it does not take a lot to get started, but it takes everything to restart.
It must be like drowning a few centimetres below the surface of the water. If you can just break through then you will make it.
If you cannot the lungs flood.
***
Time, momentum, inertia.
***
And then: gravity.
A link to Nadia David's "This Is Your Face"—a perfectly paced and wonderfully narrated story that shows the possibilities within and beyond the boundaries of short fiction; James McBride's The Color Of Water—a carefully-observed memoir about family and race; Claudia Rankine's unflinching compositions in Citizen; some transportive photographs from Nigeria that remind you of the other neglected art form in your life; a strange but engrossing Vox video about the mysterious origins of circles in the Saharan desert; and music that makes you feel what it is like to move.
The simple joy of sharing someone else's narrative, visual, and aural creations pulls you, irresistibly, back to the hunger and need to create.
So you make the time for dreaming, create your own momentum and draft something, overcome your own inertia, and commit to crafting. Through the gravity of other people's stories you learn to accept what was, is, and will be and reach for the art once more.
And on a cold Thursday in Windhoek a box arrives from the United States with copies of The Eternal Audience of One sporting their new paperback cover, a gentle reminder of the time you started working on something.
You start working on this and that.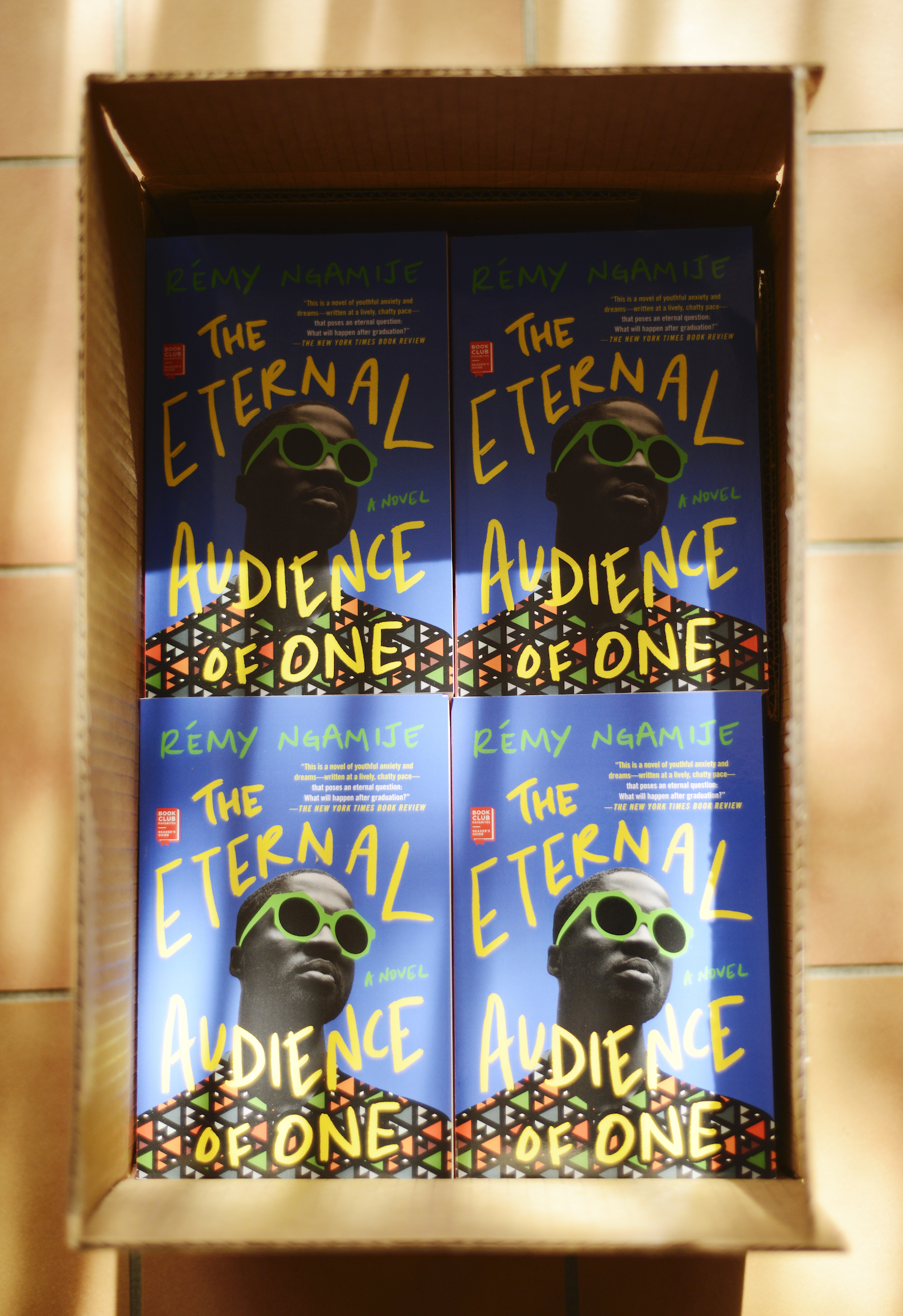 ---
POSTSCRIPT: That new cover for TEAOO is so wavy it should be in the navy; the drip is so cold global warming has been postponed indefinitely. Shout-out to the amazing team at Scout Press.


READ—Books: The Color Of Water by James McBride | Short fiction: "This Is Your Face" by Nadia Davids (The American Scholar) • "Drink Her Dew" by A. K. Herman (Doek!) | Long-form nonfiction: "The Roots Of Haiti's Misery: Reparations To Enslavers" by Catherine Porter, Constant Méheut, Matt Apuzzo and Selam Gebrekidan (The New York Times) • "What Was The TED Talk" by Oscar Schwartz (The Drift) | Poetry: "BLK History Month" by Nikki Giovanni (Poetry Foundation) • "Some Years There Exists A Wanting To Escape" by Claudia Rankine (Poetry Foundation) • "Haiku And Tanka For Harriet Tubman" by Sonia Sanchez (Poetry Foundation) | Visual art: "Kilisa" by Abubakar Sadiq Mustapha (Lolwe) | Comics & graphic novels: Fishkill by Laurence Bloom and Dan Fogler • Asterix The Gladiator, Asterix And The Banquet, Asterix And Cleopatra, Asterix And The Big Fight by Goscinny and Uderzo • The Old Guard, Book II: Force Multiplied by Greg Rucka | WATCH—Documentary: Frederick Douglass: In Five Speeches (2022) • Who Made These Circles In The Sahara? (2022) | Film: The Raid (2012) • The Raid: Redemption (2013) • The Outfit (2022) • Everything, Everywhere, All At Once (2022) | Series: The Book Of Bobba Fett, season 1 (2022) • Love, Death, And Robots, seasons 1, 2, and 3 (2019-2022) • Moon Knight, season 1 (2022) • "Last Week Tonight With John Oliver: Critical Race Theory" (2022) | LISTEN—Music: "Manila" by Alvaro Soler & Ray Dalton • "Buga" Kizz Daniel featuring Tekno • "Share That Love" by Lukas Graham featuring G-Eazy • "Holy Father" by Mayorkun featuring Victony • "Hold Your Head Up High" by Oh The Larceny • "Finesse" by Pheelz and BNXN • "Diet Coke" by Pusha T • "Boom Boom" by 2WEI featuring Jon & Jori Bryant | Podcast: "The Celtic Holocaust" (Hardcore History) | PLAY: Sifu (2022) | TRY: Rowing—that shit will finish you!